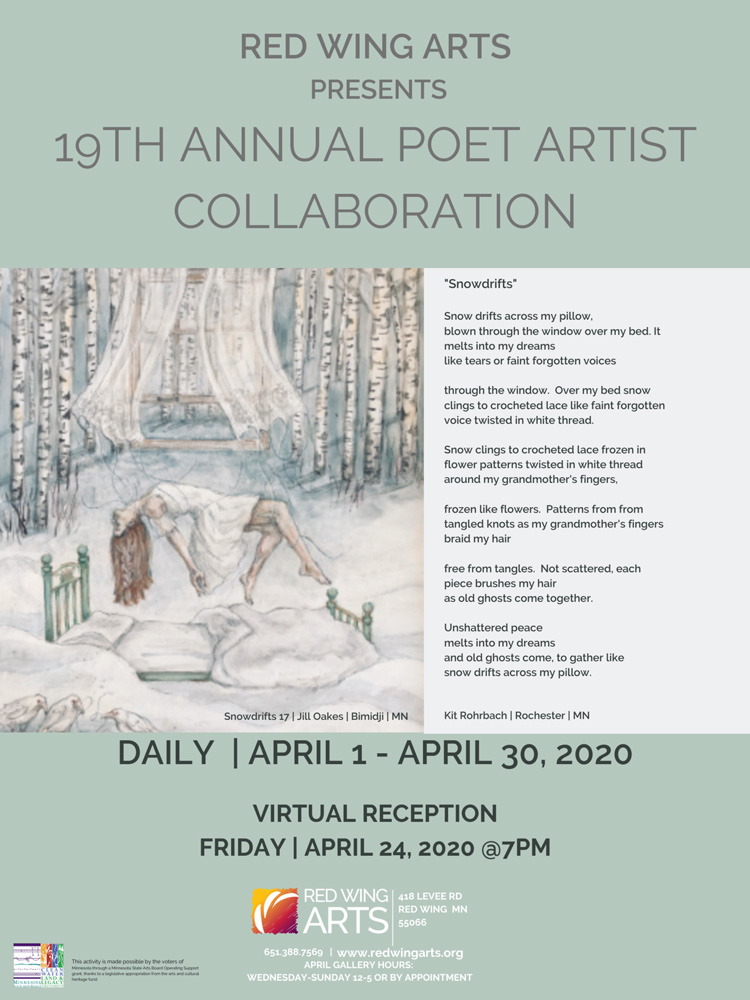 Virtual Reception: Friday | April 24 | 7pm
redwingarts.org/poet-artist-collaboration

This year's annual Poet Artist Collaboration is happening online, for all the obvious reasons. After 18 years at Crossings in Zumbrota, the show and reading are now hosted by Red Wing Arts, where they are working hard to assure that the virtual event retains its usual interactive energy, with a fine range of regional writers and visual artists represented. Follow the link to their event web page and click on Virtual Exhibit to view the art, which as usual is on sale at very reasonable prices. You can also order a chapbook that includes the poems and artwork. Check out the Red Wing Arts Facebook page for a daily posting of a poem and artwork during April (National Poetry Month). And tune in again on the RWA Facebook page for a live event, 7pm on Friday, April 24th, when you can hear the poets read their poems and artists talk about their response to the poems. RAA members Ken McCullough and Scott Lowery are among the featured poets.
Ken McCullough and Scott Lowery are members of the River Arts Alliance. To learn more about the benefits of membership, please visit: riverartsalliance.org/JOIN.