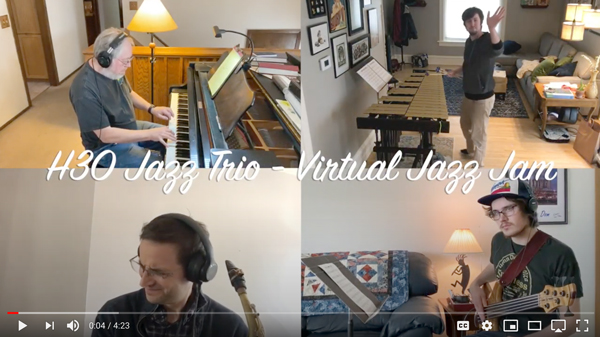 H3O Jazz Trio features a father and his two sons. They began playing together when the younger son, Max, was only 14 years old. Along with older brother Hans on drums and vibes and dad Eric on the piano the group was asked to play for a private pool party and haven't stopped since!
A. Eric Heukeshoven is an assistant professor of music and director of Jazz Studies at Saint Mary's University of Minnesota. Hans Heukeshoven is a 2014 graduate of Saint Mary's with degrees in Music Performance and Computer Science and works as a software engineer. Max Heukeshoven is a 2019 graduate of Saint Mary's with degree in Music Industry and plans to attend law school.
When COVID-19 forced all venues to close, H3O decided to create a series of "Virtual Jazz Jams" online. Recordings are made separately – although Max and Eric can record together at their home. The song and format are agreed to ahead of time and everyone records a cell phone video while listening to the bass and piano track. Eric Heukeshoven takes all of the separate components, mixes the audio and then creates the final video. The first three tunes are available at H3OJazz.com and more are in the works. Anyone interested in joining a virtual jam should contact H3O at H3OJazz@icloud.com.
H3O performs a wide variety of jazz styles including original music. They have worked as the rhythm section for numerous area professionals including Minnesota Music Hall of Fame's Les Fields, The D'Sievers, and Dr. John Paulson. Recent appearances include Gray Duck Theater & Coffeehouse, Rochester City Jazz Fest,  Castle Community,  Midwest Music Fest, Great River Shakespeare Festival, HBC25's Artwork Winona, Free Family Concert Series,  Blooming Grounds Coffee House, Winona County Historical Society, Steele County Historical Society, Minnesota Marine Art Museum, Winghaven Pizza Farm, Salem Glen Winery, Grace Presbyterian Church, Faith Lutheran Church, and numerous private events. The Winona, MN trio hosts a monthly Jazz Jam at Island City Brewing Company usually on the third Sunday of every month from 2:30 to 5:30 pm.
More information about the H3O Jazz Trio and current calendar can be found on their website – H3OJazz.com