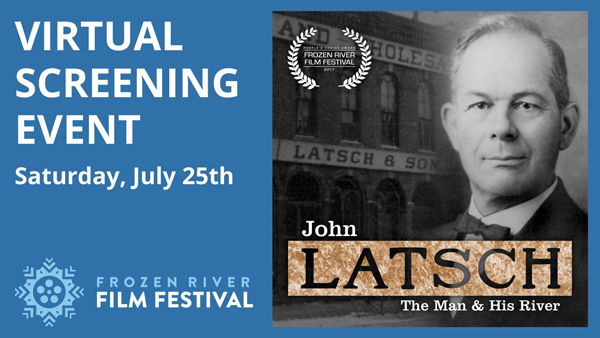 Frozen River Film Festival will present the documentary short film, John Latsch: The Man & His River, by Winona filmmaker Mary Farrell and written by Winonan, Frances Edstrom, beginning Saturday, July 25, 2020 at 7:00pm. The film screening will include a musical prelude by Mike Munson who composed music for the film, and a Q&A session with filmmaker Mary Farrell.  There is no charge to view this film. 
John Latsch (1860-1934), a humble and hard-working man, gifted Winona with a lasting legacy. He and his father ran a successful wholesale grocery business called Latsch and Son. Latsch once said, "He made his money in Winona and was going to leave it here." Latsch's solo canoe trips on the Mississippi River and his love of the outdoors resulted in the purchase of over 18,000 acres of river bottoms and high land. He donated the acreage to the City of Winona and the states of Minnesota and Wisconsin so the public could enjoy the pleasures of outdoor recreation.
The film screening coincides with the Winona Human Rights Commission's seeking nominations for The John Latsch Human Rights Award to honor an individual or organization that has made an outstanding contribution to the Winona area concerning human rights issues. 
John Latsch: The Man & His River will be the first of a series of films presented by Frozen River Film Festival this summer and fall.
For more information, visit frozenriver.org or the festival's Facebook page (facebook.com/frozenriverfilm).
This activity is made possible by the voters of Minnesota through a grant from the Southeastern Minnesota Arts Council thanks to a legislative appropriation from the arts & cultural heritage fund.
About Frozen River Film Festival
Frozen River Film Festival (FRFF) is Minnesota's only all-documentary film festival.  Now in its 16th year, FRFF presents more than seventy-films annually during the festival weekend (February 10-14, 2021), brings in filmmakers from around the world, and works with students on the documentary film-making process. To learn more visit frozenriver.org 
Frozen River Film Festival, Mary Farrell, and Frances Edstrom are members of the River Arts Alliance. To learn more about the benefits of membership, please visit: riverartsalliance.org/JOIN.