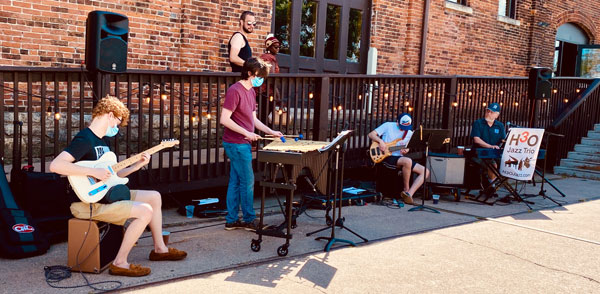 Sunday | July 26 | 2:30-5:30pm
Island City Brewing Company
H3OJazz.com
The July Jam with H3O Jazz Trio will be one week later than usual on the patio at Island City Brewing Company. After a three month "vacation", the monthly Island City Jazz Jams began again in June with an enthusiastic and socially distanced audience filling the picnic tables in front of the brewery. This month, anyone wishing to participate in the Jazz Jam will be screened prior to joining the trio. Additional disinfectant measures will also be in place to ensure everyone's safety.
Island City's patio is covered by a large tent so the Jazz Jam will take place unless there is severe weather. Check the Island City or H3O Facebook pages for weather announcements the day of the event.
Island City Brewing Company has asked that patrons observe the following guidelines:
Mask are required inside the brewery per City of Winona restrictions
Seating is limited. Please call 507-458-8873 in advance to make your reservation. Walk-up reservations will be allowed, but wait times are unknown.
If you are 15 minutes late for your reservation it will be forfeited to another customer.
Seating is outdoor only, with a minimum distance of 6 feet.
Groups are limited to 4 from different households or 6 if from the same household.
Please, no re-arranging of tables or chairs. Please respect social distancing guidelines.
Children will need to be with you at all times.
If your kids cannot stay seated, we will have to ask you to leave.
An up-to-date schedule is always available at H3OJazz.com. Please contact Emily Johnson: events@islandcitybrew.com for more information.
Photo: Guitarist Nate Pflughoeft from Milwaukee, WI jams with the H3O Jazz Trio
Eric Heukeshoven is a member of the River Arts Alliance. To learn more about the benefits of membership, please visit: riverartsalliance.org/JOIN.