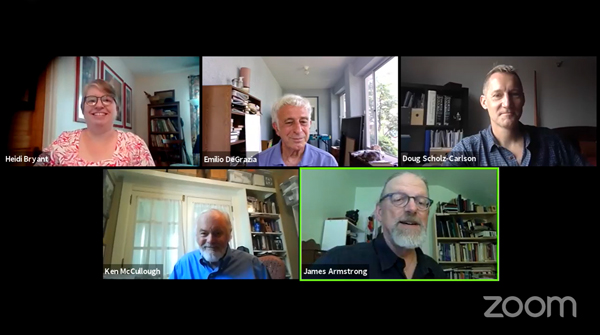 Winners in the 2020 Maria W. Faust Sonnet Contest were announced on Saturday, August 8th at our virtual Closing Event. To see the list of winners and read their sonnets, visit sonnetcontest.org/2020-winners/.
Because this was an online event, many of the winners were able to participate by reading their sonnets. We invite you watch the recording of the event on Facebook at facebook.com/sonnetcontest. The program begins at about 6:30 on the video's timeline.
Special thanks go to: the Great River Shakespeare Festival, especially to Aaron Young and Doug Scholz-Carlson for facilitating the event and to actors Leah Gabriel and Will Sturdivant for beautifully reading some of the sonnets; the judges, James Armstrong, Emilio DeGrazia, and Ken McCullough, for all of their work this year; to River Arts Alliance and Vicki Englich for writing the checks and providing organizational support; and to Flutistry for the background music for the closing slideshow. The biggest thanks go to Ted Haaland, who has ensured that the contest continues for many years to come as his way to honor the memory of his wife Maria W. Faust.
On a personal note, I am very proud of what we accomplished this year. The 2020 Maria W. Faust Sonnet Contest was truly an example of "Art Never Stops." We had to make a few adjustments such as having planning meetings on Zoom and the judges making their final decisions while socially distancing in my open garage on a rainy afternoon. With all that is going on, we had our best year yet which was especially meaningful because so many entrants were able to actively participate in the Closing Event.
The 2021 contest will open in January. If you have any questions about the contest, please email: entries@sonnetcontest.org.
—Heidi Bryant
Sonnet Contest Administrator and
RAA Communications Coordinator
The Maria W. Faust Sonnet Contest is a project of the River Arts Alliance.