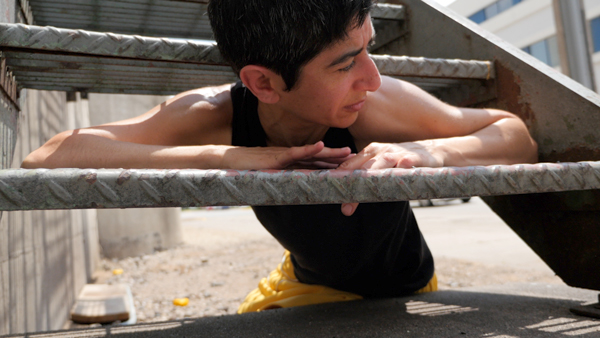 Friday | August 14 | 4:00pm-7:00pm
Third Street | Downtown Winona
www.mansurdance.com
During this Friday's Dine Out Downtown, catch colorful and kinetic glimpses of Winona based artist Sharon Mansur's dance film "…in the space between" as you shop and dine. Originally filmed in Winona, this film will be shared in the storefront windows of several 3rd Street businesses participating in a Crazy Days shopping event that evening. Screening locations include: Blooming Grounds (50 E. 3rd Street), Green Thumb Artistry (55 E. 3rd Street), Yarnology (65 E. 3rd Street), and Jovy Rockey Jewelry (78 E. 3rd Street).
This is a free event, and no tickets or reservations are necessary. Content will loop continuously on monitors, and audience members are free to come and go as they please from the sidewalk viewing areas, being mindful of physical distancing from others. This unique art installation is supported by a 2020 Winona Fine Arts Commission grant, with assistance from Winona's Main Street Program.
"…in the space between" (2018) is a site-specific experimental dance film created in Winona, Minnesota. A series of whimsical vignettes that embody poetic, architectural, social and environmentally intimate spaces of in betweenness. Concept, visual elements, performance and video edit by Sharon Mansur, Videography by BodyCartography, Production assistance by Sydney Swanson, Sound by Mike Munson. Original creation was supported by a 2018 Minnesota State Arts Board Artist Initiative grant, Winona State University's Watkins Gallery and Art of the Rural, and included community engagement activities at the East End Recreation Center, Minnesota Conservatory for the Arts, Project Fine, Public Launch, and Winona State University.
Sharon Mansur is an experimental dance and interdisciplinary artist, integrating improvisation and site responsive art within her live performance, visual installations, and dance film projects. Based in Winona/Keoxa, Minnesota/Mni Sota Makoce, Dakota Land, her dance films have been screened throughout the U.S. and internationally. variation on residue, with video artist Brian Harris, won the 2015 Best Performance Award at the Mirror Mountain Film Festival, Canada, and Sharon was featured in the 2018 WomenCinemakers Biennale online magazine. She is also the curator of The Cedar Tree Project, an artistic platform that explores art, cultural heritage and identity through the lens of Southwest Asian & North African (SWANA) and SWANA American artists.
www.mansurdance.com, www.cedartreeproject.com
Sharon Mansur is a member of the River Arts Alliance. To learn more about the benefits of membership, please visit: riverartsalliance.org/JOIN.