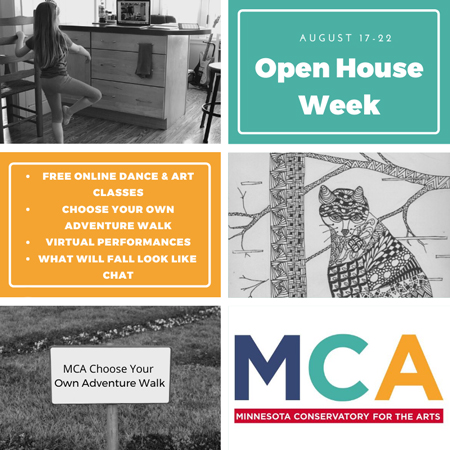 August 17-22
Online and Outside of Valencia Arts Center
mca.smumn.edu/2020/08/12/mca-fall-2020-open-house/
Do you need to set aside a little time to get creative, move, or spend time with family and friends? You can do all of these at once when you choose Minnesota Conservatory for the Arts during our Fall 2020 Open House week, August 17-22. Throughout the week you can experience free dance and art classes, take in virtual performances of talented local performers, and take a stroll with your family through our "MCA Choose Your Own Adventure Winona Walk" in the green space between MCA and the Alverna Center/ Chapel of the Angels.
Fall Open House Week Schedule:
Monday, Aug. 17: Online Ballet I Class, 5-6 PM* (ages 7-13), Opening of "Choose your Own Adventure Story Walk" outside MCA, open all week for you to explore at your convenience.
Tuesday, Aug. 18: Tappin' Tuesday Video release of past tap performance on MCA's social media, 6pm
Wednesday, Aug. 19: What will Fall Classes at MCA Look Like Online Chat with Tammy & Jamie 6-7pm*, & Online Doodle Club, 7:30-8 PM* (ages 13+)
Thursday, Aug. 20: Online Cardio Barre Class, 7-8 PM * (ages 13+)
Friday, Aug. 21: Online Doodle All the Day Class, 1-1:45 PM* (recommended ages 6+)
Saturday, Aug. 22: Premiere of MCA Summer Music Division Concert on MCA's Social Media, 6pm & final day to enjoy "Choose your Own Adventure Story Walk" outside MCA
*Programs will require online registration in order to receive Zoom Code.
Minnesota Conservatory for the Arts is a member of the River Arts Alliance. To learn more about the benefits of membership, please visit: riverartsalliance.org/JOIN.