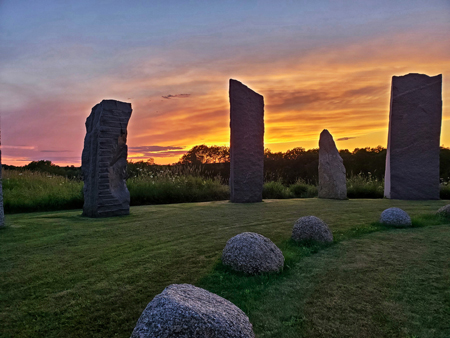 Saturday | August 22 | 7:00pm
Kinstone | 53439 Cole Bluff Lane
Fountain City, WI
www.kinstonecircle.com/event/singing-bowls-at-sunset/
Traditional historic singing bowls produce sounds that invoke deep states of relaxation; naturally assisting one in entering expanded states of consciousness and meditation. The sound of the bowls creates a deep level of communication with our inner world that opens us to the divine. The sounds and vibrations of Tibetan singing bowls opens blockages and helps us experience an inner calm and deep relaxation to invigorate our natural energy thus allowing our body-mind-spirit to quiet and find balance.
Thomas Roberts, an artist of sound and meditation, will lead us for this evening of captivating renewal by calling forth the ageless bell sounds from the bowls. Karen Lee, an artist of voice, will sing or chant with the bowls. At times you may hear influences from the Native American cultures that are an integral part of her life experience and spirituality. Experience the power and beauty of traditional Tibetan singing bowls and the blending tones of Karen's voice as we watch the sunset. During this performance at Kinstone one can expect the unexpected … vocal spontaneity and improvisation from the heart, intertwined with the vibrational voices of the Singing Bowls. Prepare to be opened to deep relaxation and meditation in the presence of sacred sound. Come join us!!
Bring your own chair or blanket to sit on for your comfort. Wear comfortable clothing and dress for the weather! Bring your own insect repellent and/or sunscreen if needed. A flashlight may be helpful if you stay until dark. Park in designated parking areas. Upon arrival, proceed directly to the Great Stone Circle.
Kinstone is a member of the River Arts Alliance. To learn more about the benefits of membership, please visit: riverartsalliance.org/JOIN.