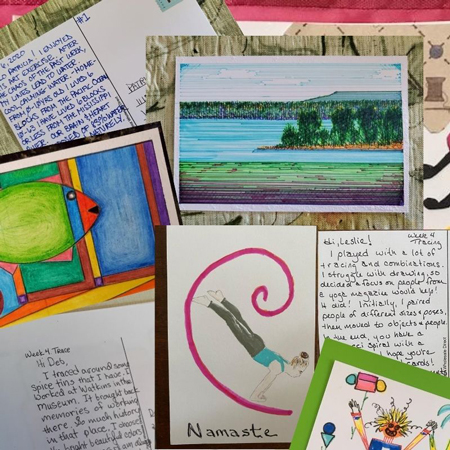 mca.smumn.edu/2020/08/24/fostering-creative-aging/
MCA's Playful Postcards program is back, this time lessons will be focused around famous artists. Participants will have the opportunity to get creative and have a little fun sending and receiving colorful postcards. Each student will receive a special art kit to keep that includes everything you need to get started including blank postcards, stamps, watercolor pencils, paint brush, glue stick, fun paper, and weekly lesson plans. All you will be asked to do is to explore new art techniques inspired by an artist then create and send a postcard a week to a classmate. Miss. Brianna will also check in with students throughout the program via a desired contact via digital platform or by phone which will be determined at a later date. (includes all art supplies & Winona Delivery or pick-up)*
Dates: Sept. 10 – Oct. 29 (self-paced)
Instructor: Brianna Haupt
Fees: In-person $24 (includes at-home art kit with pick-up or delivery in Winona or for an additional $12 kits can be mailed anywhere in the US) Need based scholarships are available.
These activities are made possible by the voters of Minnesota through a grant from the Southeastern Minnesota Arts Council thanks to a legislative appropriation from the arts & cultural heritage fund and a grant from the Elizabeth Callender King Foundation.
Minnesota Conservatory for the Arts is a member of the River Arts Alliance. To learn more about the benefits of membership, please visit: riverartsalliance.org/JOIN.