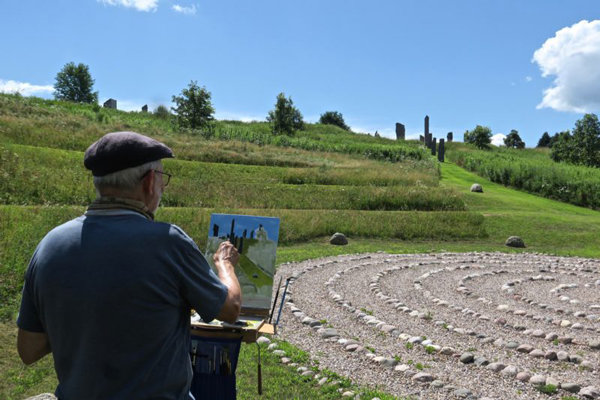 Join the Kinstone Autumn Plein Air Days & Art Sale at Kinstone Megalithic Gardens October 3rd & 4th!
Artists paint on site Saturday, Oct 3rd from 9am-4pm.
The Art sale begins on Sat 4-6pm and Sunday noon-5pm.
Registration is $10 in advance and $15 at the door.
Details and Registration: kinstonecircle.com/event/art
Location: S3439 Cole Bluff Lane, Fountain City, WI 54629
Kinstone is a contemplative, park-like place with spectacular views, intriguing stonework, and natural buildings. This stunning 30-acre bluff-top property has a fabulous view of the Mississippi River as well as over 100 standing stones including three stone circles, megalithic dolmen, classic 7- circuit labyrinth, thatched, cordwood chapel, dry-stack stone sculpture, natural buildings, food forest gardens, raised bed gardens, 2-acre prairie, pond, woodlands, fields and more.
Artists of every drawing/painting medium and every skill level are invited to create plein air works at our Autumn Plein Air Paint Day & Art Sale. Artists may exhibit and sell any works produced during this event.
Our 8th Annual Autumn Open House is from 12pm to 5pm on Sunday, October 4 and we expect a large crowd that afternoon! Extending the exhibition and sale during our Open House event increases exposure and sales for everyone!
For this event, Kinstone will retain 25% of all artist's sales. Unless otherwise arranged, participating artists must remove their artwork by 6:30pm on Sunday, Oct. 4.
Kinstone is a member of the River Arts Alliance. To learn more about the benefits of membership, please visit: riverartsalliance.org/JOIN.