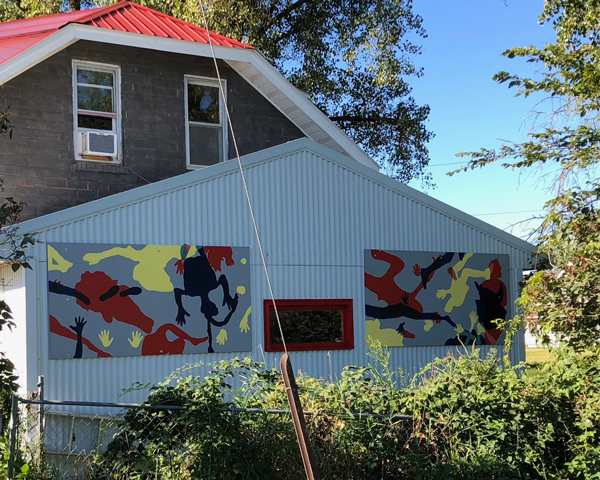 Contemporary American artist, Billy X Curmano, led a performative mural painting workshop in the College for Kids program at Winona State University, Winona, MN (circ. 1990). The kids are grown and records are lost. The two 4' x 8' mural sections have spent their lives in storage up until now. Finally, "The Billy X Kids Mural" has found a home. It has been installed on the exterior north face of the Witoka Contemporary garage at Art Works USA. The mural can be seen anytime during daylight hours. For the best view, travel south from Winona on County Highway 17 almost to the top of the Witoka Bluff. The mural will be on the west side of the road – to your right.
To celebrate the long awaited installation, a formal "Billy X Kids Mural" – Walk, Ride, Fly or Drive-by reception and dedication is scheduled for October 2, 2020 between 4 and 6 p.m. Due to Covid-19 concerns and restrictions, there will be no stopping. The artist and workshop leader will simply wave as participants pass by. Please don't stop. Keepsake photographs of the artist waving will be available for purchase from www.billyx.net at a later date. We are also interested in locating any of the College for Kids kids that helped create the mural. If you are still out there, please send your contact information along with "I helped create the Mural" in the subject box to: billyx.net@gmail.com  For more information please contact billyx.net@gmail.com or call: 507.400.5689.
Billy X Curmano is a member of the River Arts Alliance. To learn more about the benefits of membership, please visit: riverartsalliance.org/JOIN.