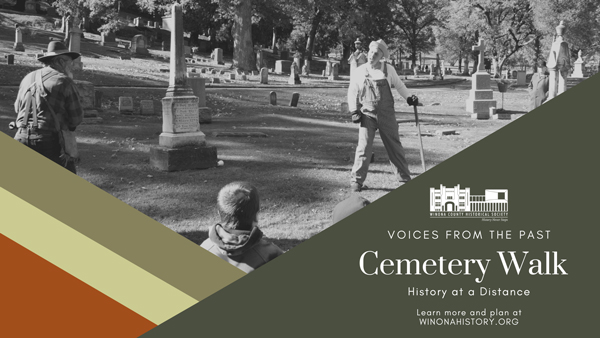 Saturday | October 10 | 12:00-5:00pm
Sunday | October 11 | 12:00-5:00pm
Woodlawn Cemetery
www.winonahistory.org/voicesfromthepast.html
Indoor Seated Performance of Sites – Thursday, Oct. 8, 7 p.m. at the History Center (Reservation Only – see event website for details)
Admission: $10 Adults, $5 Students, $3 Youth 12 and younger. Taken at gate or buy a pass online starting Oct. 1.
The Voices From the Past: Cemetery Walk is adapting to make a safe event for all. Join the Winona County Historical Society in beautiful Woodlawn Cemetery for some history at a distance as we explore the lives of past Winonans a little differently this year. Take a safe self-guided walk to as many of the performance sites as you wish, in any order you choose, to learn about people from Winona's history with community actors portraying past Winonans.
Voices From the Past 2020 Event Details for a Safe Walk:
No guided groups this year – attendees can make the Walk in any order they choose and can start when they arrive. (performances begin at Noon and end at 5 p.m. – allow about 90 minutes to see all the sites).
Even though we are outdoors, please maintain a 6 foot distance from others not in your party and bring a mask to wear when at the admission table & performance sites. Thank you for being courteous and understanding.
Chairs will be available at rest stops along the route and will be regularly sanitized.
Guides will be throughout the Cemetery to help direct you and answer questions.
Watch for special history markers along the route for additional information and fun facts!
There will be no refreshments for sale this year. Please only bring covered or bottled beverages if you wish.
Also note that we will only cancel for severe weather; please dress for the weather and bring a coat or umbrella if there is a chance for light precipitation.
The Winona County Historical Society is a member of the River Arts Alliance. To learn more about the benefits of membership, please visit: riverartsalliance.org/JOIN.