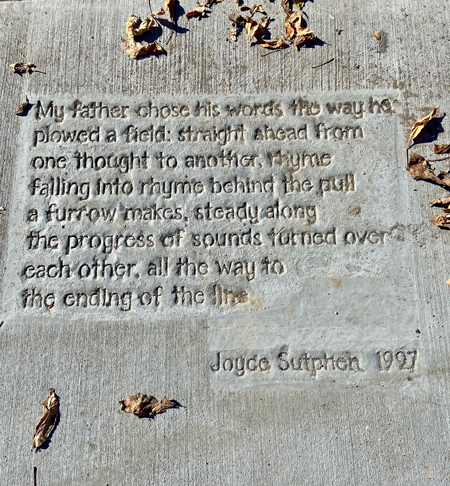 Friday | October 30 | 5:30-6:30pm
Blooming Ground Coffeehouse
www.facebook.com/winonafineartscommission/
The Winona Fine Arts Commission and the City of Winona are very pleased to announce the new public art initiative. The Winona Poetry Walk is installed and ready to experience. There will be a launching ceremony, free of charge, with many of the Poets reading their selected poem Friday, October 30th at 5:30pm outside of Blooming Grounds, 50 East Third Street.
The Winona Poetry Walk project consists of original poetry stamped into sidewalks downtown on 3rd, 4th, and 5th Streets.
The FAC requested submissions of original short poems (or parts of poems) and received a wonderful variety of responses. The first nine poems selected are: Jerome Christenson, Chris Kendall, Lorraine Kilmartin, Steve Leonhardi, Winona Poets Laureate James Armstrong, Ken McCullough, and Emilio DeGrazia, Winona Associate Poet Laureate Nicholle Ramsey, and Minnesota Poet Laureate Joyce Sutphen. The mission of the Winona Poetry Walk is to celebrate local writers, make the creativity of our residents more visible, and enrich our city aesthetically and intellectually.
A full map and brochure will be available at the Visitor's Center, key downtown businesses, City Hall in the Park and Recreation Department, and online at the City of Winona website.
The font for the Poetry Walk was designed by Winona State University Art and Design majors from Danilo Bojic's typography class. It is based on aesthetic inspiration taken from various landmarks in Winona. The student designers were Ellen Klismith, Morgan Sumter, Elizabeth Pierce, and Makenna Meyers.
In addition to the downtown locations, Winona residents have the opportunity to have their contractor borrow a poetry stamp and place a poem in the sidewalk outside their residence.
The selections were judged by a panel of local citizens with expertise in the arts and poetry chosen by the Fine Arts Commission.
The City of Winona is a partner of River Arts Alliance.