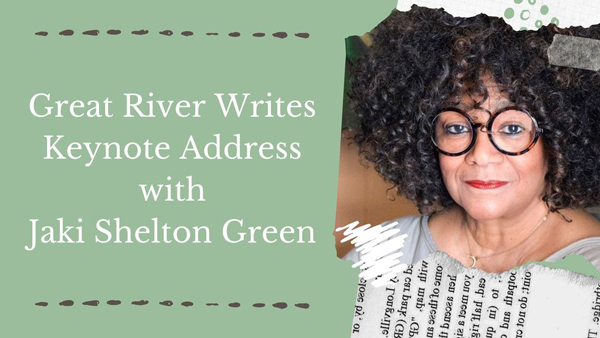 Thursday | November 5 | 6:00pm
www.facebook.com/GreatRiverWrites
Great River Writes is going virtual in 2020! Join us for the 4th annual Great River Writes series with keynote kickoff speaker and poet Jaki Shelton Green. We're thrilled to welcome this dynamic author and artist to our writing series. The event will be held on Zoom and registration info on the Facebook page (link above). Great River Writes Keynote Address, Reading, and Discussion Jaki Shelton Green, the first African-American Poet Laureate of North Carolina, will launch the 4th Annual Great River Writes series on November 5th.
The author of eight collections of poetry, Ms. Green teaches Documentary Poetry at the Duke University Center for Documentary Studies. In her most recent work, The River Speaks of Thirst, her debut album, she performs new poems set to music, addressing subjects such as police brutality, lynchings, the middle passage, and America's original sin of slavery. One track, "Oh My Brother," responds to the killing of George Floyd. Ms. Green will speak about the power of art, the power of poetry, she will read from her work, and will engage with viewers about the craft of writing and the role of perseverance. This event is sponsored by the University of Wisconsin – La Crosse English Department.
River Arts Alliance is a partner of Great River Writes.