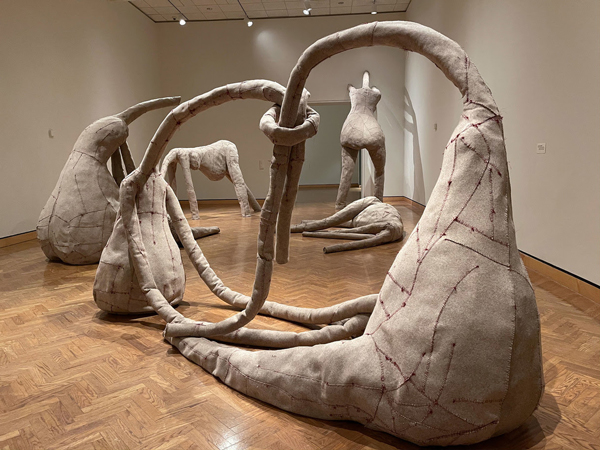 Wednesday | January 20 | 5pm
minnstate.zoom.us/j/8976193747
Nicole Havekost will present work from her exhibition, Chthonic, currently installed at the Minneapolis Institute of Art. The term "chthonic" refers to mythological creatures, which Havekost has created from felt and installed as large-scale sculptures throughout the gallery space.
Havekost lives and works in Rochester, Minnesota. She earned a BFA in printmaking from the Rhode Island School of Design and a MFA from the University of New Mexico, also in printmaking. She is a 2013 and 2018 recipient of the Minnesota State Arts Board's Artist Initiative grant. She is an experienced educator and currently an Adjunct Professor of Drawing at Winona State University.
Image courtesy of the Minneapolis Institute of Art. 
About the Watkins Gallery
Located in Watkins Hall at Winona State University, the Watkins Gallery invites five or six contemporary artists or curators to create exhibitions for the Winona State and city of Winona community. The gallery also hosts between four and six student exhibitions each spring. The gallery will use the following Zoom URL for all virtual events this spring: minnstate.zoom.us/j/8976193747.
WSU Arts Admininstration is a member of the River Arts Alliance. To learn more about the benefits of membership, please visit: riverartsalliance.org/JOIN.