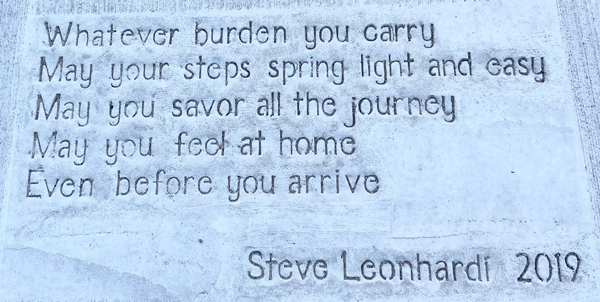 February 1 to April 5
Downtown Winona, Poetry Walk
www.cityofwinona.com/297/Winona-Poetry-Walk
The Winona Fine Arts Commission (FAC) is launching the second iteration of The Winona Poetry Walk, consisting of original poetry stamped into sidewalks. This initiative enjoys support from City Council, City Staff, and the citizens of Winona.
The FAC requests submissions of original short poems (or parts of poems), to be added as new sidewalk panels in the poetry walk. The Winona Poetry Walk is an ongoing public art program. It was launched last year to great success.
Applicants must be at least one of the following:
Full time residents of Winona
Full time students in Winona
Posthumous submissions from relatives of poet who lived in Winona
First Nations/Peoples who claim this as their ancestral home
Submissions will be accepted from February 1st, 2021 through April 5th, with juror decisions made in April, National Poetry Month. The concrete sidewalk stamping will be completed and celebrated sometime in early Fall.
Poems may be composed in either a vertical format (up to 11 lines; no line having more than 26 characters including spaces and punctuation), or horizontal format (up to 8 lines; no line having more than 36 characters including spaces and punctuation). If a title is included, it will count as two lines (title line plus a line space between the title and the poem). These size restrictions are strictly enforced. Each entrant may submit up to 2 poems for consideration.
In addition to the original downtown placement of each poem, Winona residents may ask to borrow a poem stamp to use in their sidewalk. The resident will be responsible for costs and coordination with contractors.
The selections will be judged blindly by a panel of volunteers with expertise in, or passion for, the Arts and Poetry.
Qualifying applicants may submit their work by visiting the Fine Arts Commission webpage and clicking on the link www.cityofwinona.com/297/Winona-Poetry-Walk.
All questions and inquiries may be referred to Lee Gundersheimer, Arts and Culture Coordinator for the City of Winona at (507) 457-8255 or lgundersheimer@ci.winona.mn.us.
The City of Winona is a partner of River Arts Alliance.