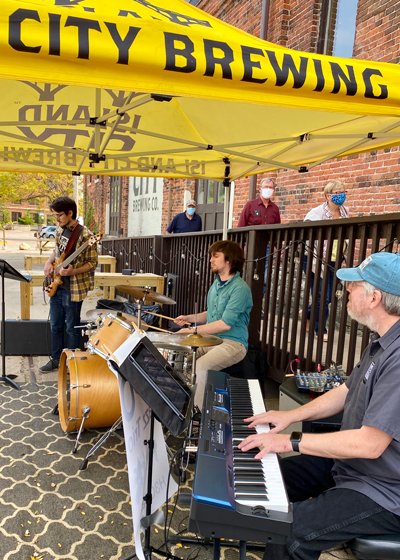 Sunday | March 21 | 2:30-5:30pm
Island City Brewing Company
H3OJazz.com
H3O Jazz Trio and Island City Brewing Company are thrilled to announce the monthly Jazz Jams will begin again on Sunday March 21, 2021 from 2:30 to 5:30 p.m. in the taproom.
Out of an abundance of care for patrons, the indoor event will feature H3O without the usual guest musicians. Weather permitting, the April 18th Jazz Jam will be held on Island City's patio and will welcome the many talented performers to jam with the band.
Island City Brewing Company reminds patrons that masks are required per State of Minnesota guidelines. Capacity in the taproom is limited to 50%, so come early grab a beverage and enjoy an afternoon of great jazz with H3O!
An up-to-date schedule is always available at H3OJazz.com. Please contact Emily Johnson: events@islandcitybrew.com for more information.
Photo: H3O Jazz Trio entertaining music fans at September Jazz Jam.
Eric Heukeshoven is a member of the River Arts Alliance. To learn more about the benefits of membership, please visit: riverartsalliance.org/JOIN.