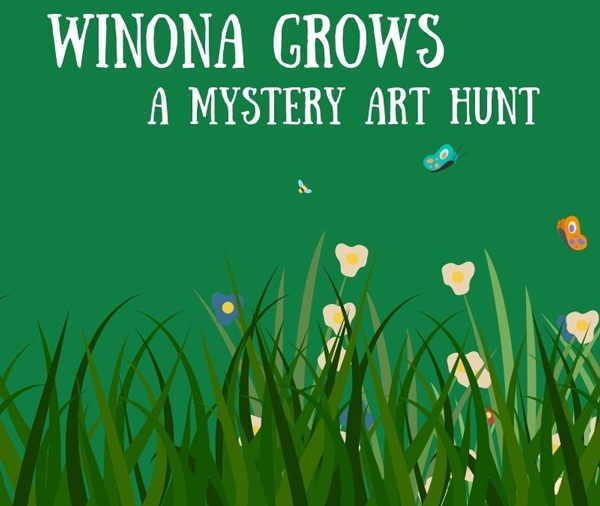 April 17 – May 1
Various Locations around Winona
mca.smumn.edu/2021/04/15/winona-grows-art-hunt-map-more/
Minnesota Conservatory for the Arts (MCA) is excited to invite the community to join in a COVID-friendly community wide mystery art hunt, Winona Grows. Between April 17-May 1, oil pastel artwork created by Winona area artists of all ages will be on display in windows of area businesses and also outside in public spaces. Not only will participants get to view beautiful Winona and spring-themed artwork but they will also get to explore Winona and solve a mystery.
Next to the artwork in each location, clues will be given to a poem created by Winonan Miranda Harper. Participating locations include The Winona Visitor's Center, Winona Feed & Seed, Jovy Rockey Jewelry Shop, Levee Park, Green Thumb Artistry, Minnesota Conservatory for the Arts (MCA), and Winona County Historical Society.
Visit our website to see a map of artwork locations. The map has a suggested order list of locations, however, participants are welcome to devise their own path. Don't forget to share your journey on social media using #Winonagrows!
Once you have visited each location and recorded the mystery word, you can hand in a copy of the map or the words written out along with your name and email address to the Winona Visitor Center during their business hours or virtually by filling out a form on our website by May 1 to be entered to win one of three unique MCA art kits.
MCA hopes that this family friendly activity gives community members something fun and safe to do during challenging times. So join the Winona Grows mystery hunt going on between April 17-May 1.
Want to Learn how to Create with Oil Pastels? Please visit the Minnesota Conservatory for the Arts YouTube channel to enjoy art tutorials by MCA teaching artist, Lisa Douglas. While exploring these videos students will learn oil pastel techniques such as blending and shading as they use Winona Landmarks such as Sugar Loaf and the Winona Bridge as inspiration.
Minnesota Conservatory for the Arts is a member of the River Arts Alliance. To learn more about the benefits of membership, please visit: riverartsalliance.org/JOIN.