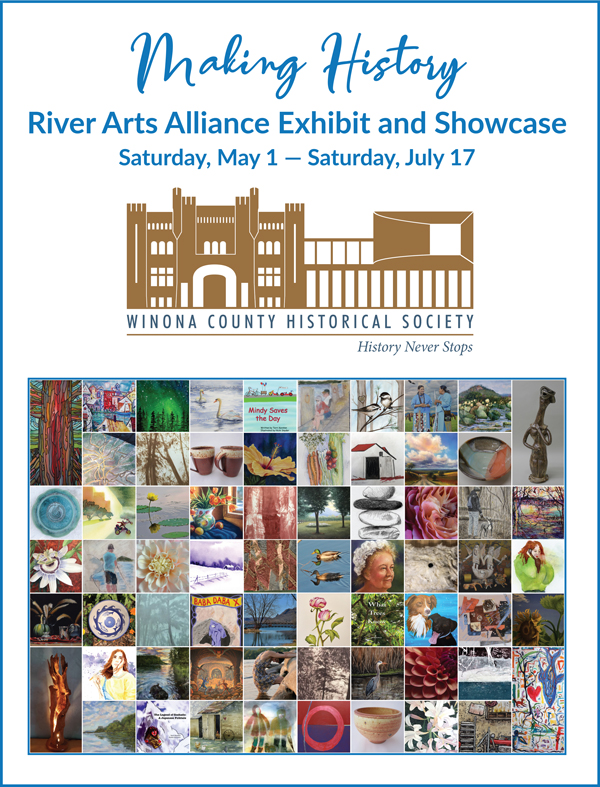 May 1 – July 17
Winona County History Center | 160 Johnson St
www.winonahistory.org/
Making History: RAA Member Exhibit and Showcase, will open May 1 and run through July 17. Over 25 regional artists will have work in this show featuring photography, music, paintings, pottery, poetry and more. The 2021 River Arts Alliance Member Exhibit and Showcase began online. Now it launches a new partnership with the Winona County Historical Society to provide a place to showcase regional artists, offering the public more access to their art. 
Making History is free and open to the public and most art will be for sale. Regular museum admission applies for the History Center main exhibits and archives which is $5 adults, $3 students, free for WCHS members and children 7 and younger. Find more at winonahistory.org and visit the virtual gallery at riverartsalliance.org/member-exhibit. The Winona County History Center is open Monday – Saturday, 10 a.m. – 4 p.m.
Regional artists are invited to apply online now for future shows! Proposals for all mediums and types of art are welcome. More information and an application link can be found at winonahistory.org/artgallery.
The Winona County Historical Society is a member of the River Arts Alliance. To learn more about the benefits of membership, please visit: riverartsalliance.org/JOIN.