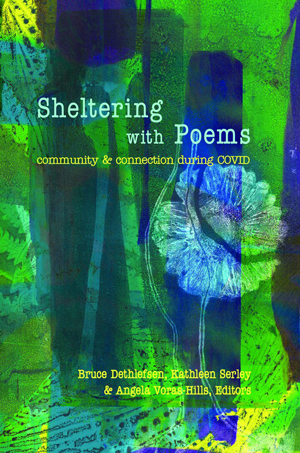 Saturday | July 17 | 7:00pm
online from Arts + Lit Lab, Madison WI
artlitlab.org/events/sheltering-with-poems-reading
Last spring, Bent Paddle Press (Madison WI) published Sheltering with Poems: Community and Connections During Covid, featuring pandemic responses from several dozen upper Midwest poets. Written during the spring and summer of 2020, these poems reflect the minutiae of everyday life as well as overarching issues of kindness, health, fear, uncertainty, generosity and justice. RAA member Scott Lowery has two poems in the anthology, and has enjoyed participating in group readings in support of the book. On Saturday, July 17, tune in on Facebook Live or the Arts + Lit Lab YouTube channel to hear Scott's poems, along with Angela Voras-Hills, Ron Czerwien, Lora Keller, Ae Hee Lee, Katrin Talbot, Angie Trudell Vasquez, Jesse Lee Kercheval, Lee Kathryn Hodge, and Susan Firer.
Scott Lowery is a member of the River Arts Alliance. To learn more about the benefits of membership, please visit: riverartsalliance.org/JOIN.