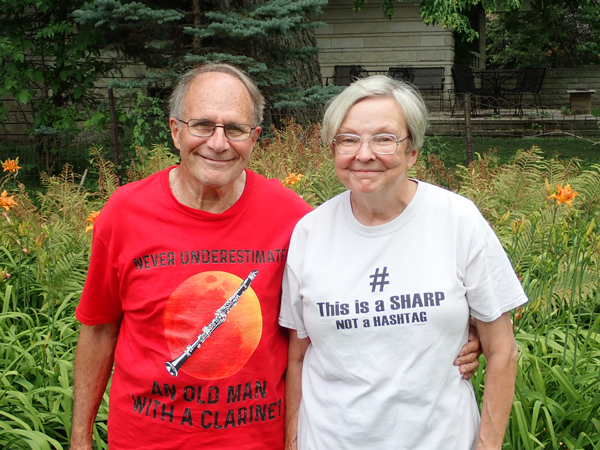 For 40 years, you've seen this musical couple every Wednesday evening in the summer, playing clarinet in the bandshell. No doubt, you've stopped to discuss their musical t-shirts or listen to a bad dad joke or two from Frank. They are one of many couples who have helped make Winona a vibrant arts community over the years, so we recognize some of their contributions in this month's Member Spotlight.
Frank and Ruth Bures moved to Winona in 1978 where Frank was hired as a dermatologist by the Winona Clinic. In 1979, they both joined the Winona Municipal Band as clarinet players. They played in several local orchestras, including St. Teresa, Winona, Rochester, and LaCrosse, over the years.
Frank graduated from Drake University Music school where he met Ruth who was also was studying music. Frank went to medical school after serving three years in the army, playing clarinet in the West Point Band. Ruth taught music at many different locations and levels. In Winona, Frank stayed active in music, organizing concerts with various combinations and types of instruments and music, while Ruth taught lessons and composed hundreds of children's songs as well as songs and programs for the children's church choir she directed. Her program, Here Comes Christmas, was published nationally.
Frank played solos and duets with Ruth for many Municipal Band programs. Ruth was a founding member of the Oratorio Chorus and recently sang with the Valencia Chorale. They both have participated in the St. Mary's University Band. Last year, she revamped and rearranged two of her Christmas programs, which were directed by Kelly Welti and presented at the Oaks Upstairs stage.
The 2015 Winona Municipal Band Centennial Celebration was Ruth's brainchild. She organized a committee of band members, including Frank, who worked to plan, organize, and facilitate the events. Ruth did extensive research into the history of the band and wrote the scripts that were read at each concert. She also worked on the movie that was made about the band's history and the events of that summer.
Since the pandemic, they have been practicing with other sidelined musicians in their garage, which is now "the music studio." Frank has organized a woodwind quintet and a clarinet quartet who will perform with other groups from the Winona Municipal Band at the bandshell on Wednesday, July 22 and Aug. 12, to provide a bit of the live music the regular summer band concerts customarily present.