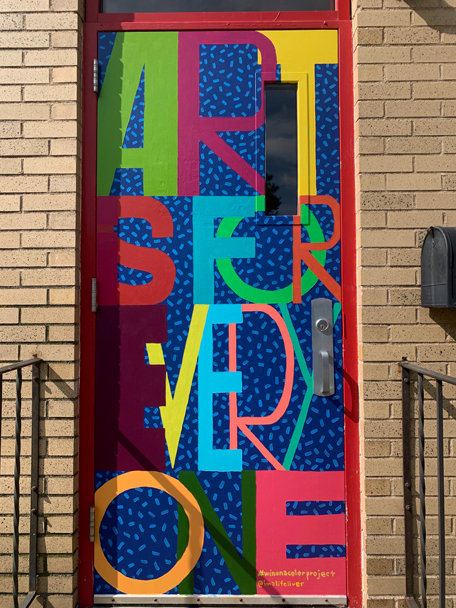 Saturday | October 3 | 11:30am
(Rain Date – Saturday | October 4 | 11:30am)
www.facebook.com/events/656405885017923/
Tune in via Facebook Live on Saturday for a virtually vibrant and creatively colorful art event!
Sarah Johnson's Winona Color Project meets Sharon Mansur's "…in the space between" project for another creative collaboration for this dynamic duo, building on their work together since 2017.
Johnson's latest mural "Art is for Everyone" at the Minnesota Conservatory for the Arts, plus Mansur's theme of "in betweeness" will be the inspiration for a multi-media performance exploring color, architecture, nature and movement possibilities in the spaces between.
With videography by La Green.
Infusing social distanced spaces of our current lives with energy and creativity.
Tune in online live and also swing by MCA afterwards, at 1164 W. Howard Street, to view Sarah's fan-color-tastic mural in person and play with some of the performance prompts left behind. Please take a pic and post with #winonacolorproject!
Art is everywhere, everyday and for everyone.
Sarah Johnson is a multimedia artist and mindfulness practitioner who eats color with her eyeballs to fuel her soul and has a passion for community engagement.
Sharon Mansur is an interdisciplinary artist, educator, curator and community mover and shaker who loves creating artistic opportunities for people from all walks of life to connect and engage. www.mansurdance.com
This event is supported by the Winona Fine Arts Commission, the Winona Community Foundation. Special thanks to Jamie Schwaba of the Minnesota Conservatory for the Arts, Sydney Swanson and La Green.
Sharon Mansur is a member of the River Arts Alliance. To learn more about the benefits of membership, please visit: riverartsalliance.org/JOIN.