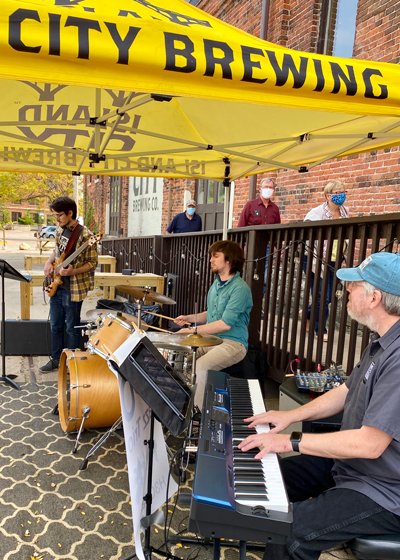 Sunday | October 25 | 2:30-5:30pm
Island City Brewing Company
H3OJazz.com
Due to forecasted chilly temps and chance of snow on October 18th, this month's Jazz Jam has been rescheduled to Sunday October 25 on the Island City patio from 2:30 – 5:30 p.m. – weather permitting!
MN Dept. of Health guidelines currently prohibit "Open Mic" sessions. Recognizing the need for everyone's safety and social distancing, this month's event will again feature an afternoon of jazz favorites played by H3O without the usual participation by Jazz Jam guests. Last month's "Stump the Band" was great fun and the band knew every song. Maybe your tune will be the one to stump H3O this month!
Island City's patio is covered by a large tent so the Jazz Jam will take place unless there is adverse weather. Check the Island City or H3O Facebook pages for weather announcements the day of the event.
Island City Brewing Company has asked that patrons observe the following guidelines:
Mask are required inside the brewery per City of Winona restrictions
Seating is limited. Please call 507-458-8873 in advance to make your reservation. Walk-up reservations will be allowed, but wait times are unknown. If you are 15 minutes late for your reservation it will be forfeited to another customer.
Seating is outdoor only, with a minimum distance of 6 feet.
Groups are limited to 4 from different households or 6 if from the same household.
Please, no re-arranging of tables or chairs. Please respect social distancing guidelines.
Children will need to be with you at all times. If your kids cannot stay seated, we will have to ask you to leave.
An up-to-date schedule is always available at H3OJazz.com. Please contact Emily Johnson: events@islandcitybrew.com for more information.
Photo: H3O Jazz Trio entertaining music fans at September Jazz Jam.
Eric Heukeshoven is a member of the River Arts Alliance. To learn more about the benefits of membership, please visit: riverartsalliance.org/JOIN.