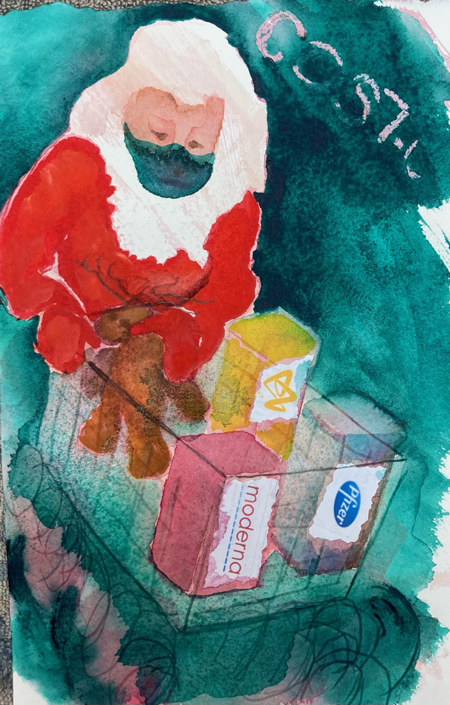 What does one do when traveling through Winona and stopping for lunch at the Blue Heron Coffeehouse during the Member Exhibit? You join River Arts Alliance, of course!
For December, we are putting Virginia Huber in the spotlight. She discovered RAA and knew she wanted to be a part of what we are doing. Though she lives in southern Wisconsin, she joined immediately and is now one of the artists in our first Virtual Winona Art Walk. The theme of the pieces she chose to display is "People Looking Out for People" – very appropriate for this difficult year.
Virginia says of that fateful day, "The RAA artwork showing that day when we were at the café in Winona was so strong in reaching out and successfully making connections with patrons. Colors reached out, compositions, content – all of it. I also like that musicians and poets want to be members. I forward the monthly schedule of programs to our daughter. There is a noticeably strong community spirit to help with artists trying to make ends meet during the pandemic."
Read Virginia's story below and explore her art at winonaartwalk.org/virginia-huber and virginiahuber.com.
Balance has, since my childhood even, been the most important word in the back of my head. I very much saw the need to have a personal life that could reinforce an attitude about things working out. Truthfully, I come from a family where both parents were in a chronically depressed state and that was not good. I married at 21 to a grad student in physics – Dave Huber – who was 25.
We finished my husband's education on the east coast and drove to Madison, WI, for Dave's faculty position. We came with our firstborn, one year old daughter I mentioned above – Laura – who now lives on a farm somewhat north and east of La Crosse. She grew up to be Principal of Northside Elementary in La Crosse. We have two other daughters and a son. Johanna is an attorney in Madison, Wi; Amy is a social worker in Oakland, CA; Bill oversees R and D for a solar panel corp. in Ohio. And we have eight grandkids who range from thirty to thirteen.
I finished my own education when my youngest went off to kindergarten. School half time took me four years. I started teaching in my studio over my garage on a one-to-one basis. Art students from six years to eighty or more came for an hour. I loved teaching and introducing art materials that I had collected as an undergraduate art student here at U. of W. In time, I taught adults in classes at the University Outreach division and loved that too. After an MSEd. In Continuing and Vocational Education at U.W., Dave and I incorporated Huber School, LLC, as a one room schoolhouse for adults, and I loved that too.
But time has passed and in 2006, I retired from teaching. I keep a studio. This morning I am almost finished working on a painting about a young woman who has stepped outside for a smoke. I'll either ruin it or pull it together if I can get the quality of the smoke rising up the side of her young body and into the air she breaths. The complicating factor is there is a slight breeze that could take the smoke off and away a bit. That happenstance appeared on its own as I was doing my studio time. I'm thinking she's not going to get away with the smoke habit and I'm sorry about that. The painting is too wet as I write this, and I'm worried I will wreck it by grabbing hold of the outcome. So I need to calm myself and regroup my courage. I'll return to it after I get dressed and do family errands in the car. Distraction will help.
This life we have has both taken energy away from art and has fed it. I don't have an explanation for that; I'm just glad that it did and does. I've always had to organize time and energy. That might be an aspect. And in the 58 years we've been married, I've had to think about life/time/energy balance. And, I'm sure my husband, kids and grandkids have too. Everybody does.
Many years ago, a pre-school grandkid asked me, "What's the most important thing in your life, Gramma?" I said with a confident smile, "Family. Now ask me what is the next most important thing in my life." He did and I said in a resonant voice, "ART!" We both chuckled.
Virginia Huber is a member of the River Arts Alliance. To learn more about the benefits of membership, please visit: riverartsalliance.org/JOIN.