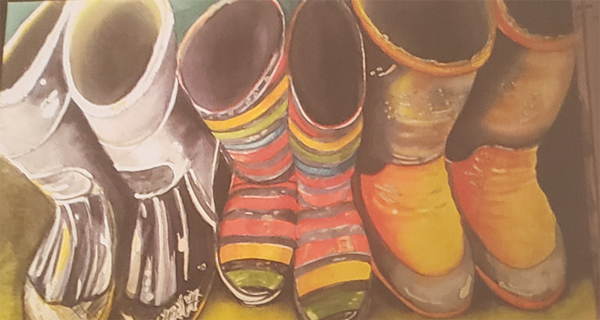 Kathy Schoen is a local watercolorist who will have a virtual exhibit through the Winona Public Library from July 10th to August 10th. Schoen's exhibit is in three parts.
The first part of the exhibit features shoes as part of a series called Shoes in Our Lifetime. The series features pictures of shoes and their corresponding story. Schoen invites the public to share stories about their shoes, a friend's shoes, or a family member's shoes and submit a photo. These stories and photos will go into an exhibit album. She has taken several of these photographs and painted them as watercolors. If you have a story about shoes to share, email Schoen at shoeinourlifetime@gmail.com.
In the second half of the exhibit, explore watercolors from Schoen's children's book, Miss Elephonse of Africa. The book tells the story of an elephant named Lilly who wants to be fancy and become the most beautiful elephant in the world. Throughout the humorous, colorful tale, Lilly learns what she really wants.
The last portion of the exhibit features various other watercolors painted by Schoen. If you are interested in contacting her about her book or her watercolors, email kschoen10@gmail.com
This online exhibit will be available on the Winona Public Library's Website (winona.lib.mn.us) beginning July 10th through August 10th.
The City of Winona is a partner of River Arts Alliance.